Case Study: Process
A Digital Space for Grief & Loss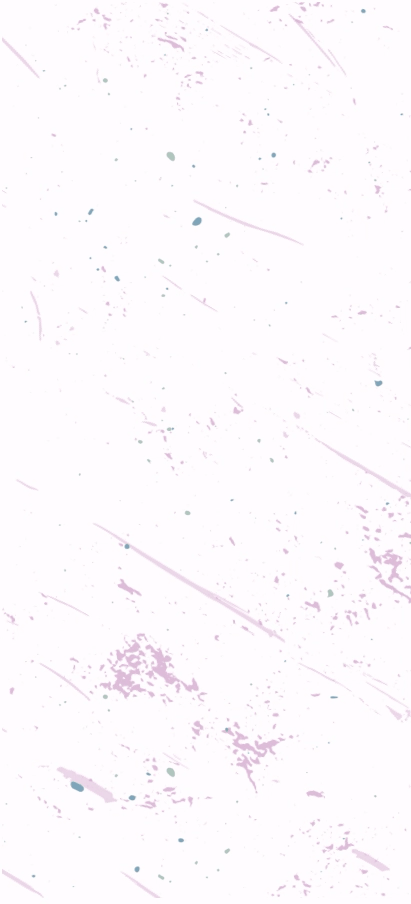 Process is a mobile app that empowers anyone who has experienced a loss to understand grief, reflect on their losses, and share their experiences with the people who support them.
Here's how it went from curiosity to a reality.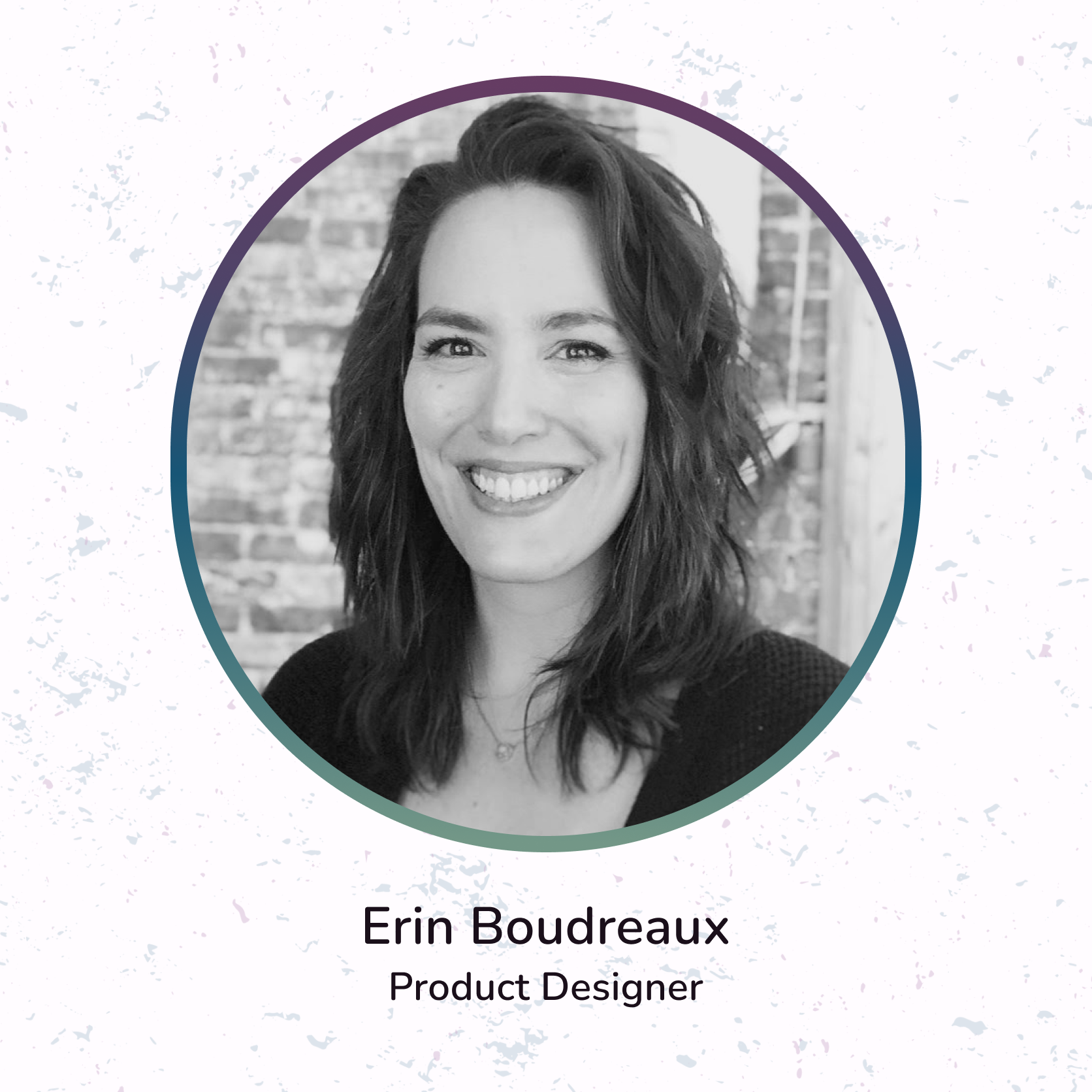 Who & How
I acted as Product Designer for this project, which took about four months, one dead MacBook and many hours of balancing getting it perfect and just making it exist. The researching, designing, prototyping, testing and iterating… all me, baby.
I also used a lot of tools to make it all happen:
Sketch & Figma for producing wireframes, and screens

Overflow for creating user flows

Adobe Illustrator for creating graphics, logos, and elements

Maze & Marvel for remote prototype testing

Miro & A Good Ol' Fashioned Whiteboard-with-Post-Its for brainstorming, affinity mapping, sketching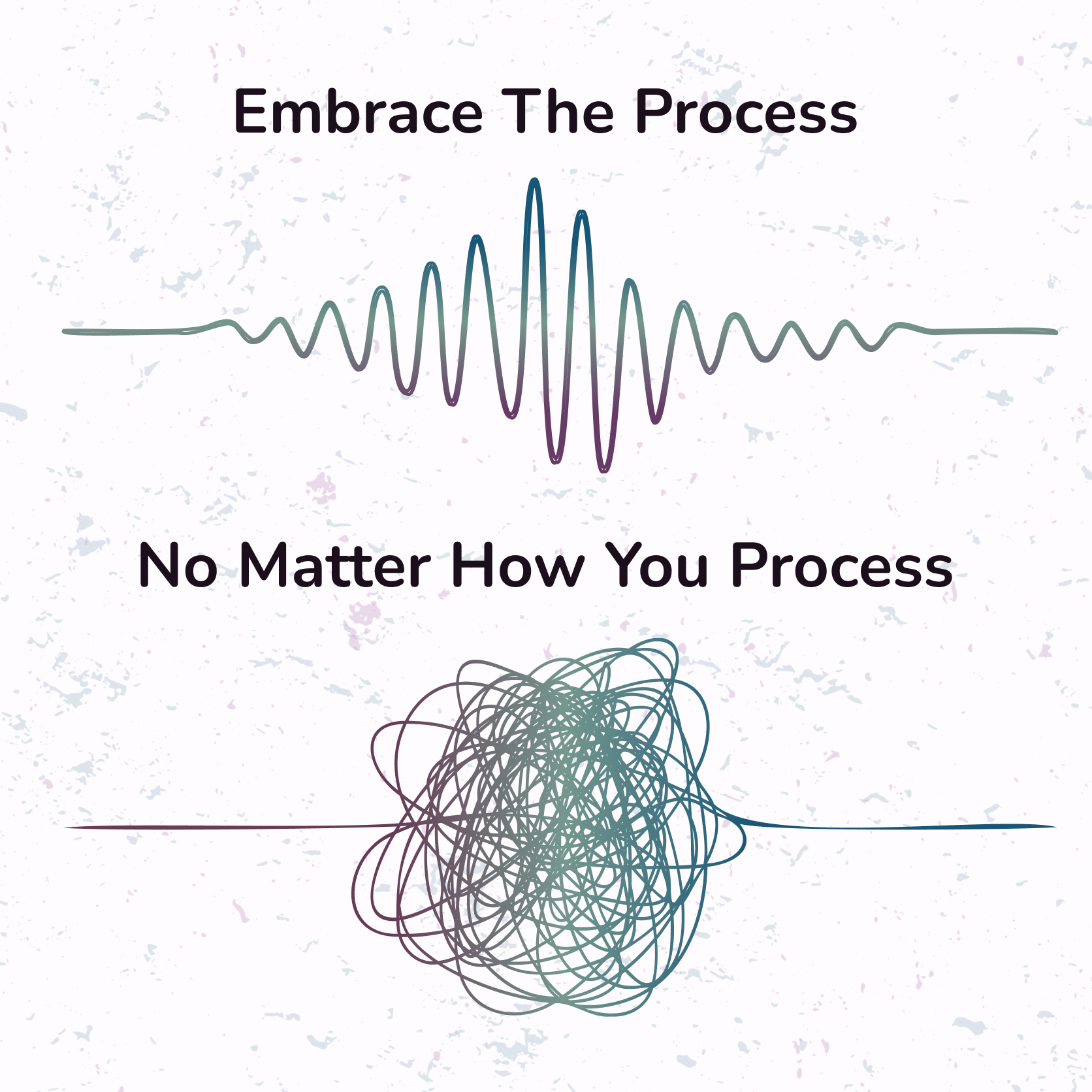 Grief is the biological, emotional, and cultural healing process that helps us cope with loss, whether it's a break up, a layoff, or the death of a loved one.
Although grief is universally experienced and follows a somewhat consistent process, there's no singular or shared understanding of how to express grief, especially in the increasingly-remote world.
This problem space is deeply personal to me, having experienced several major losses in my 20s. The need to build something that serves those experiencing loss only grew more urgent as COVID-19 pandemic intensified and practically everyone I knew was feeling the weight of catastrophic loss and acute social and physical distance. When I began working on my first Springboard capstone, I wanted to focus on a project that bridged the emotional parts of my life with the technical skills I'd began solidifying as a bootcamp student.
Early in 2020, a friend confided in me that very few of her close friends knew how to talk to her about losing her mother. She said that it seemed like the world had gone on as normal, but nothing in her life felt normal at all. At the time, I wasn't focused on using tech to help solve her problem, but the interaction stayed in my mind.
I also spent 2020 building a client's diversity, equity and inclusion practice and revising their digital strategy in response to the murders of George Floyd, Breonna Taylor, and hundreds of Black Americans by police. I felt the need to integrate an awareness of this public mourning and anger into my work.
No app can heal the trauma of systemic racism or the profound losses that we all encounter throughout our lives, but I believe that thoughtfully designed technology can help us do our inner work. Before I learned to name the feeling that has hung so heavily over our world, I explored how we attempt to soothe and heal our anguish. My Starting Point:

How do people give & receive support during times of stress?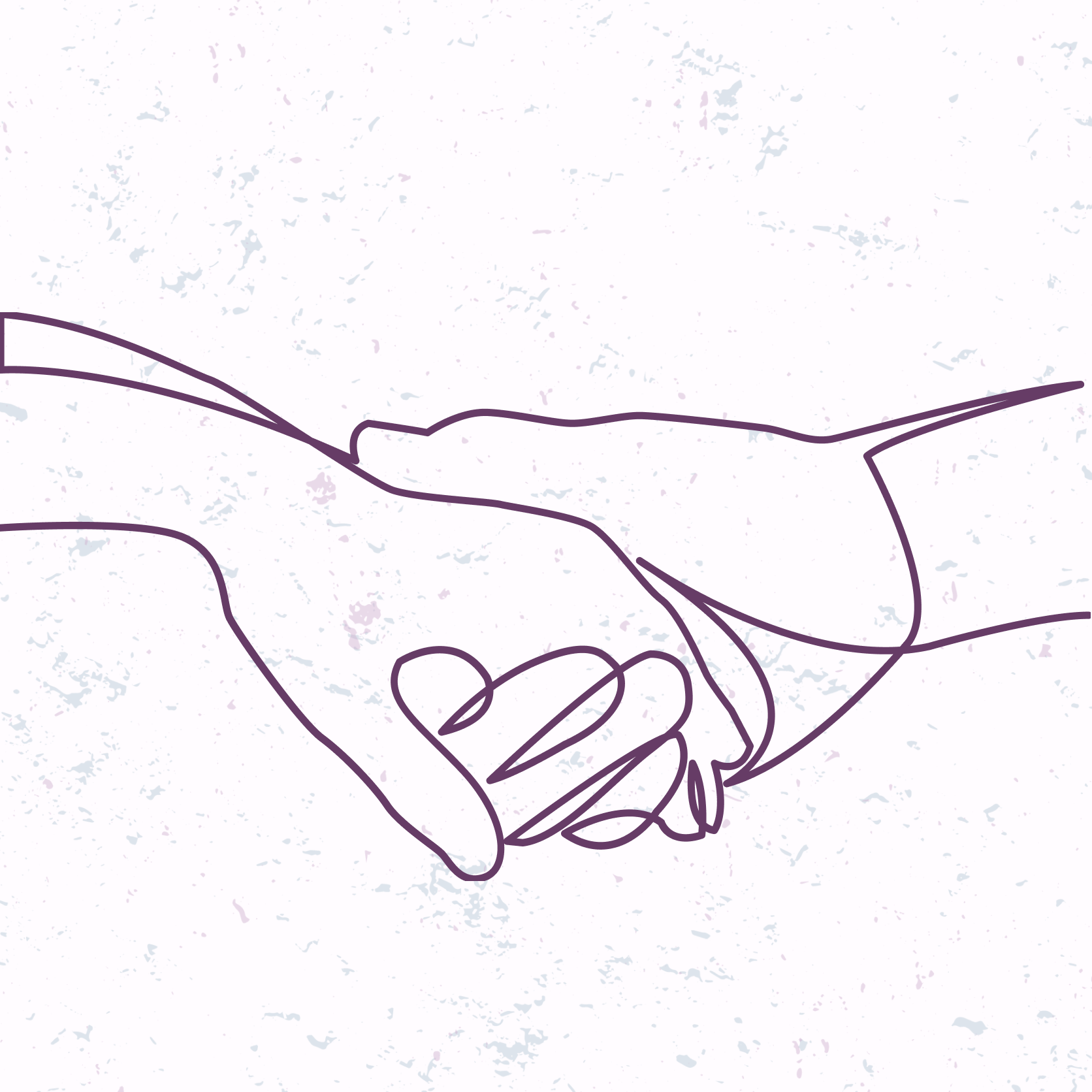 First, I needed to understand why we need support.
I started exploring the problem space with secondary research that included understanding the role of social support for those experiencing stress.
This research showed that social support is key in helping people have better outcomes after stressful life events.
View my full research document here.
Then, I needed to find out how we receive it.
I began my primary research with these questions in mind:
In what ways do people give and seek support for stressful life events?

Do people experiencing stressful life events feel adequately supported?

Are people comfortable using technology to seek or give support for stressful life events?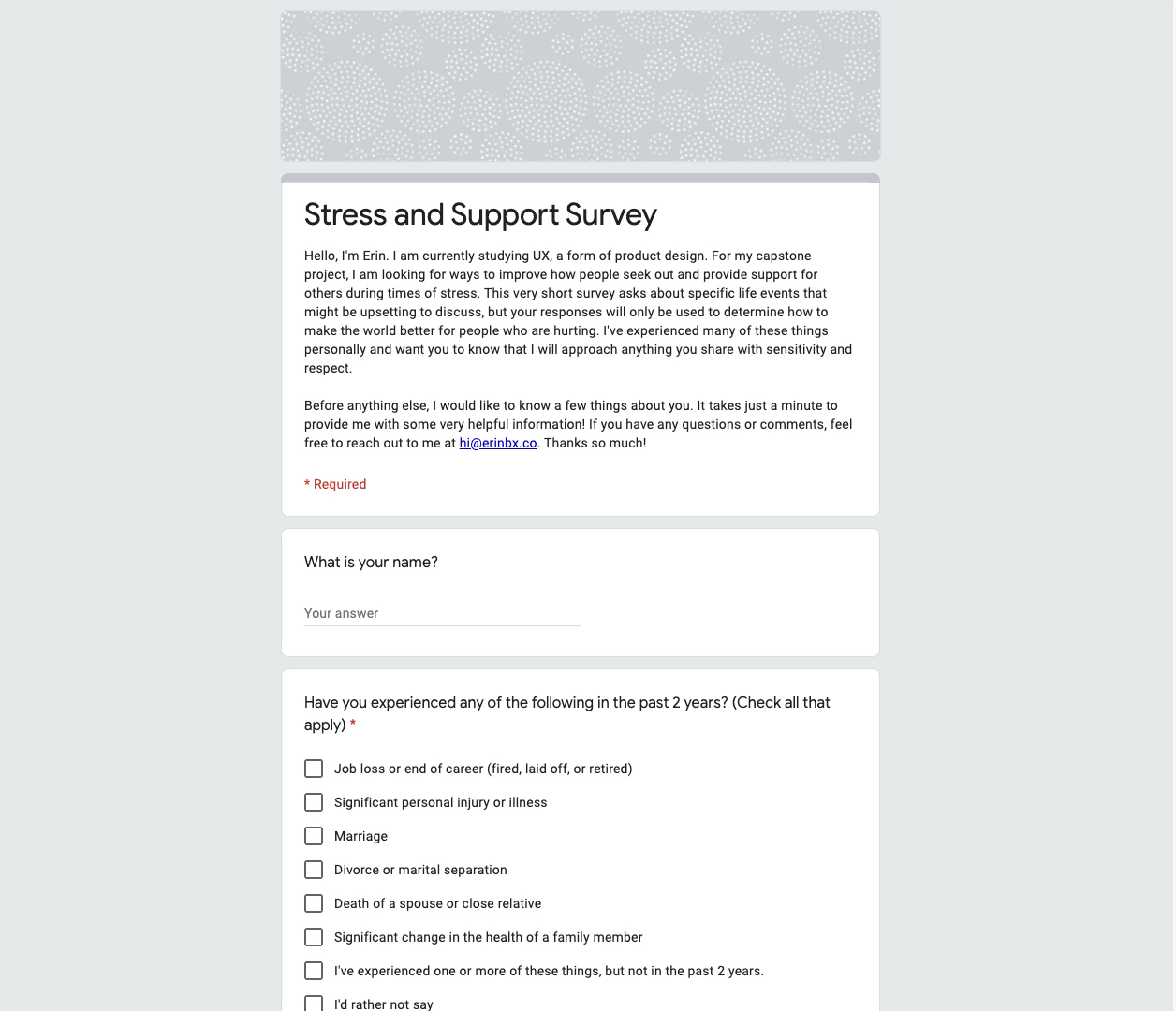 Survey
I knew social support was vital, but I needed to talk to real people about their experiences to know how I could help them. I created a screener survey and sent it out to my personal and professional networks. I had relatively broad selection criteria:
Those who had experienced a stressful life event (e.g. divorce, death of a loved one, illness, etc.) in the last two years.

Those who were moderately-to-extremely comfortable discussing stressful events with family and friends.
I also included a question about how supported people felt to get a temperature check on how respondents felt overall about discussing difficult subjects.
I received 76 responses, of which 30 met selection criteria. I chose to focus on those who reported low-to-moderate feelings of support so that we could discuss ways to improve social support during the interviews.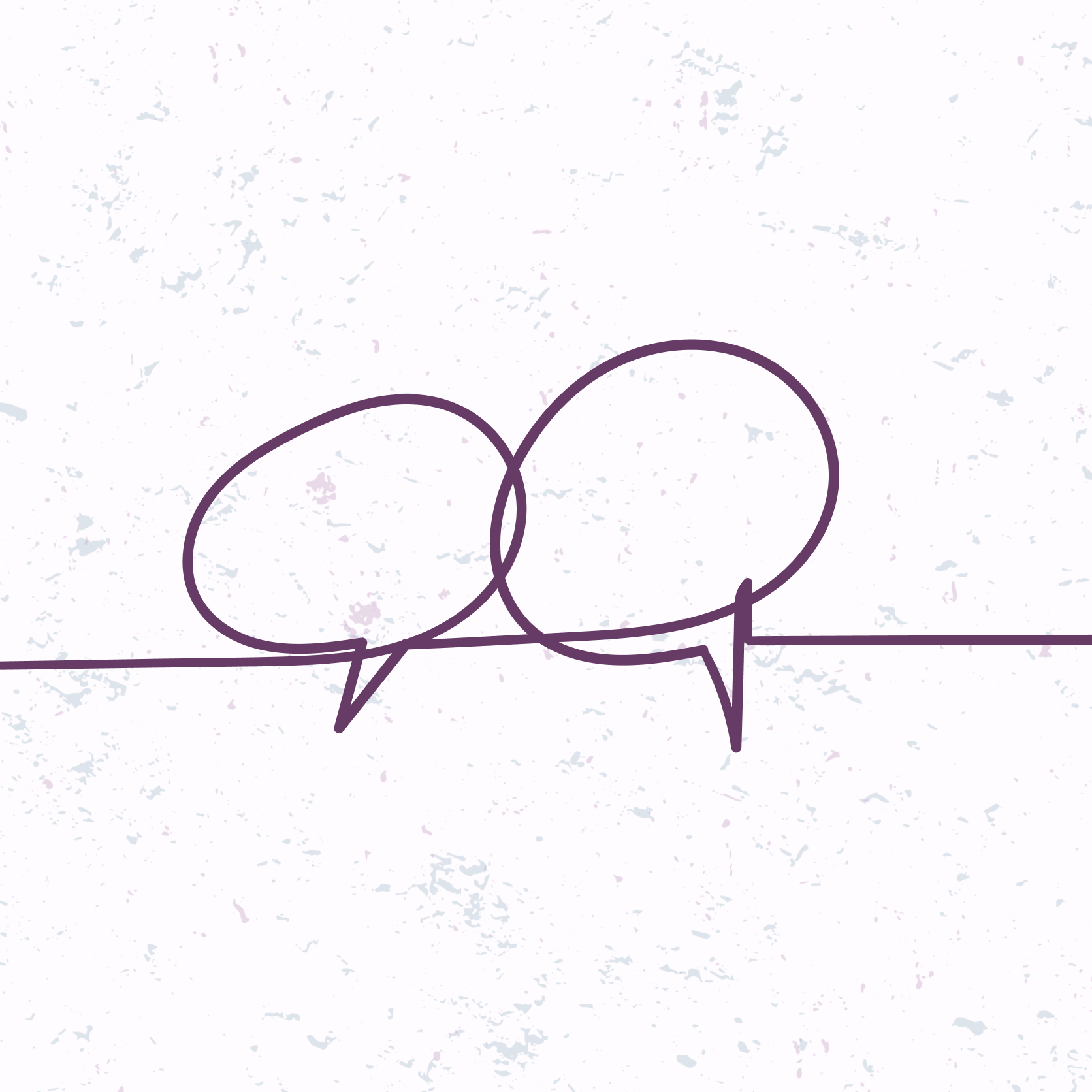 Interviews
Although every part of this project was incredibly rewarding, my six discovery interviews were some of the most valuable work I've done in my career to date.
These weren't product-and-feature-focused interviews but vulnerable conversations about incredibly personal events and emotions. Every interviewee shared painful stories of loss, love and the ways that did or didn't have their needs met during difficult times.
No matter what my interviewees had experienced, from job loss to the death of a parent, they all saw expressing their feelings and experiences as part of their grieving process.
My interviews confirmed that I needed to build something specifically for people who are grieving, so I created my problem statement with this in mind.
How might we make sharing grief empowering instead of shameful?
It was time to figure that out.
Affinity Map
With over a dozen pages of interview notes and nearly six hours of audio, I needed a way to capture the most critical needs of those experiencing grief.
I logged quotes, themes and observations on color-coded stickies and then categorized these into an affinity map. The most common themes across my interviews were:
Reasons people seek support when experiencing grief

Judgement (Thoughts, worries and stories about)

Oversharing (Thoughts, worries and stories about)

Similar experiences create more meaningful support

What platforms and ways people prefer to keep in touch
From this affinity map, I synthesized my interview findings into three problems and needs:
No matter the loss, grieving people want to be seen, heard and understood.
The bereaved and their support systems don't always share the same boundaries and feelings about what's appropriate.
Poor boundaries and ill-defined social expectations make sharing grief shameful or embarrassing.
Empathy Maps
I also created empathy maps to solidify my understanding of what grieving people experience. These maps also helped distill the key features of people who might benefit from what I created.
Personas
My empathy maps served as a great jumping off point to create two personas that I continued to reference throughout while prototyping, testing and revising Process.
These personas represented a big shift, because I was able to focus on people whose needs were the highest priority. These personas kept me laser-focused on helping those who had experienced grief and needed a place to work through their thoughts and feelings.
User Stories
Equipped with personas and a clear understanding of what needs and problems those experiencing grief faced, I created, categorized and prioritized user stories to determine what needs I could serve with a minimum viable product.
The user stories fell into three categories:
Sharing / Reflecting
They find immense comfort and value expressing and sharing feelings and memories associated with their loss
Learning
They are interesting in connecting-the-dots to the many ways grief can be felt, expressed and experienced.
Receiving Support
They want to share aspects of their grief and healing with trusted friends and confidantes, especially those who encounter similar losses.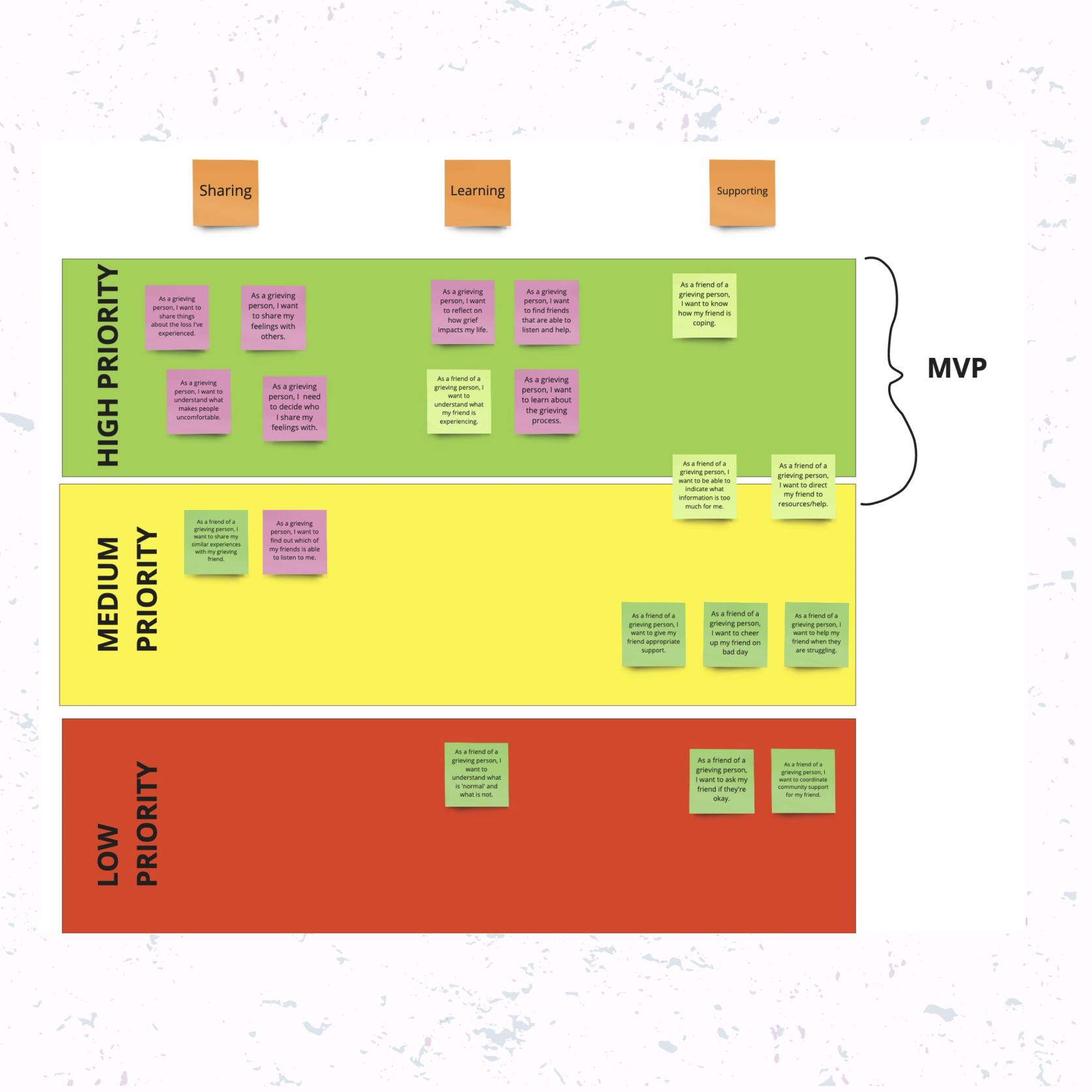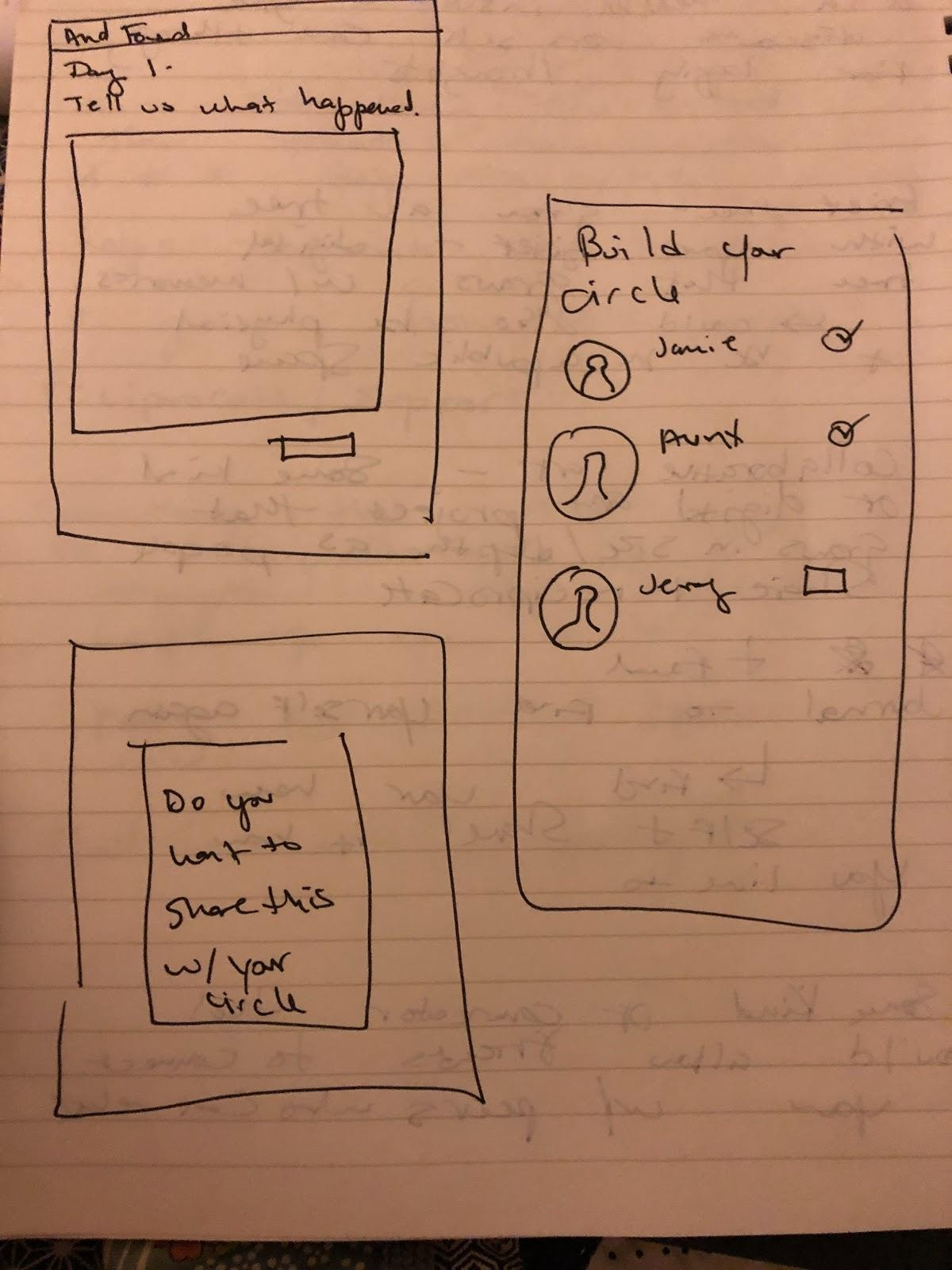 Brainstorming My Way to an MVP
It was finally time to figure out what to build, so I grabbed my favorite product manager and facilitated a 90-minute brainstorming session.
We began with 30 minutes of laddering where How can we make sharing grief empowering instead of shameful? was re-phrased as a goal: Build a [digital] product that empowers those experiencing loss. This helped us move from abstraction to concrete solutions.
Our creative minds were warmed up and ready to ideate, so we spent an hour rapid sketching and refining what each idea would be as a product.
One idea stood out the most:
'Find Yourself Again' Journal - A "smart" journal app that focuses specifically on the process of loss and grief. It would provide prompts for those who like to write or let people share photos/memories/art related to the prompts. It would also allow people to share their journal entries with friends and family.
This journaling app hit all the sweet spots: People could share, learn and receive support in a space that was dedicated to grief and loss.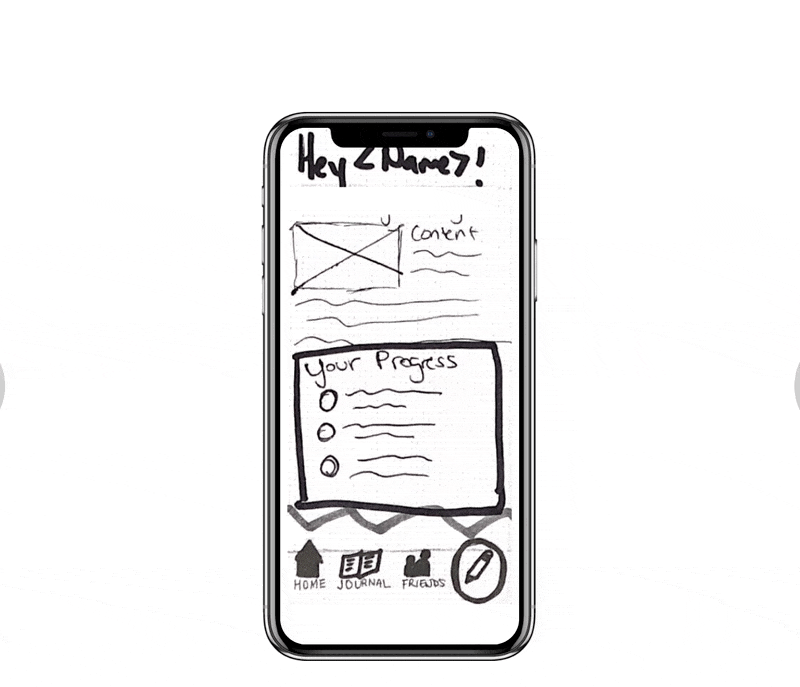 Paper Prototype
Before pushing pixels, I created a low-fidelity paper prototype. Starting with this helped confirm that my product would flow in a way that was intuitive and meaningful for people who use it.
I tested my sketches and flows with five people from my network who expressed interest in an app designed for grief. Each participant was asked to:
Sign up

Complete a tutorial & onboarding

Create a text journal entry

Share the entry with friends
Make it understandable.

Problem: People struggled to understand concept of the app without a lot of context but were excited by it once they understood how it worked.
Solution: I'd need to create concise, strategic UX copy that left no doubt about the features and benefits of the app.
Make it functionally beautiful.
Problem: In my hand-drawn versions, things could be a bit difficult to find, which made people frustrated.
Solution: Things like navigation weren't great, but it would be easy to fix with a solid design system and aesthetic that made the app lovely to use.
Make it feel safe.

Problem: People didn't know how to feel about sharing their journal with others.
Solution: I'd need to think through the security of a sharing feature and reconsider framing the app as a journal or something else entirely.
Wireframes & Flows
I made these wireframes in a style somewhere between iOS and Material Design. This design choice would go on to inform my design system... but more on that later!
What was most important at this stage was making sure that I had a solid foundation to build upon, especially in terms of UX copy. This content-first approach paid off - most of the copy in my final screens was written during my first stage of wireframing.
The paper prototypes were key to seamlessly transitioning my designs to wireframes and building wireflows. My flows were already validated, and I was able to address many edge cases early on. Designing, Prototyping & Testing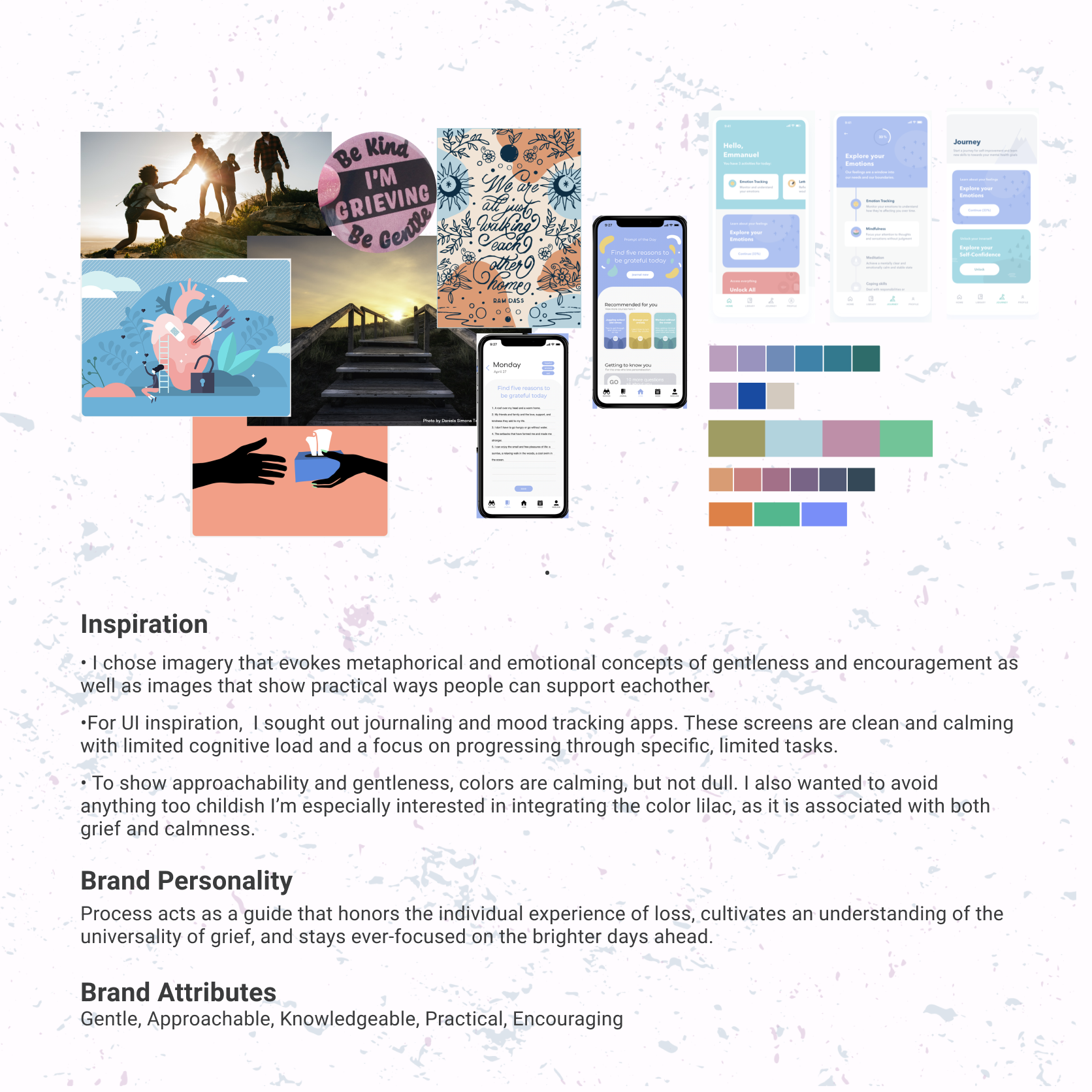 Look, Feel & Feelings
Before moving forward with my high-fidelity designs, I took time to establish a strong brand for my app, which I called Process to honor the grieving process and the act of processing grief.
I created a mood board from my brand attributes - gentle, approachable, knowledgable, practical and encouraging. I used this as inspiration to develop a mission and vision to guide the project.
Mission & Vision
Grieving is a healing process that is essential to the human experience. Process creates a digital space where anyone can be empowered to understand grief, reflect on loss and seek support when times get tough.
Style Guide & Design System
Psychological safety and cognitive load were the two biggest design considerations when I created a style guide and design system for Process.
I selected colors, iconography and images that evoked calmness and opted for minimalistic components to make wayfinding through the app effortless.
The design system is largely informed by iOS design standards, but I integrated some of the tactile, real-world elements of Material Design in elements like my home screen navigation.
Usability Testing
I conducted two rounds of usability tests to uncover usability issues and confirm that my content gave users a clear understanding of the features and functions of the app.
First Round Tests
I conducted five moderated tests with participants who had experienced the loss of a parent, relative or close friend.
During these tests, I received valuable feedback about the visual hierarchy and readability of several pages and identified some issues with touch targets.
Aside from these issues, every user completed the tests and gave positive feedback.
Second Round Tests
I collected twelve unmoderated tests that asked users to complete the same tasks as the previous round. These tests validated that all critical issues had been resolved.
Participants were also asked to summarize the app's purpose at the end of the test. 75% adequately described the purpose and core functions, and the remainder gave positive feedback.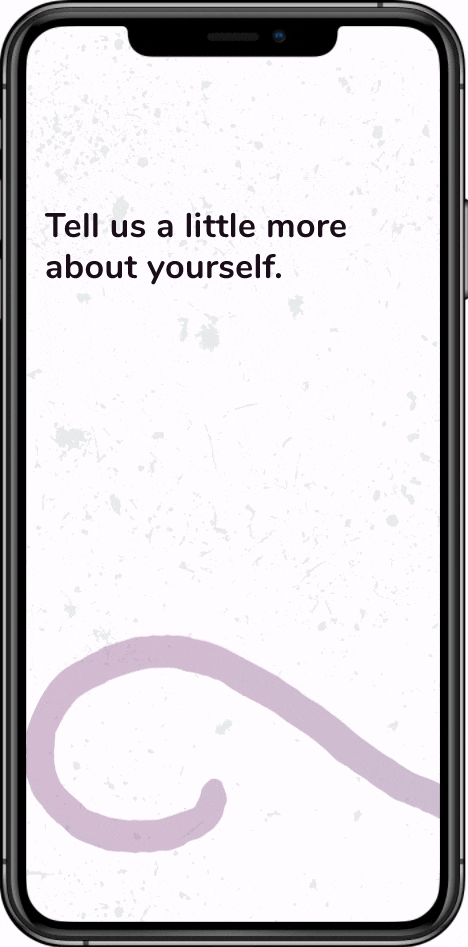 Process is designed for anyone experiencing grief.
The onboarding flow matches users with a Process Path that provides them with tailored content and prompted journal entires related to their specific loss.
"This is a very easy-to-navigate app. I could see this working well as 'homework' assigned by a therapist or a way to organize thoughts before/during talking to a therapist. "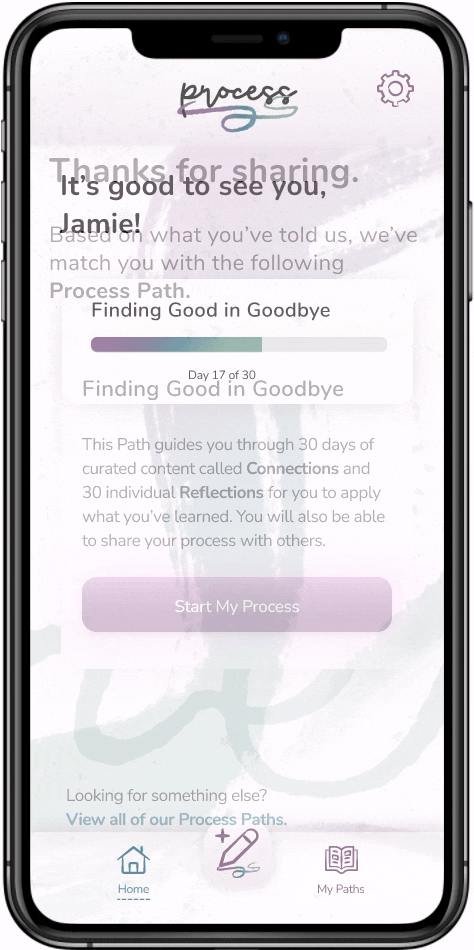 Connect the Steps in Your Path
Each day, users engage with a Connection.
These brief articles are sourced from mental health professionals and presented in a bite-sized, approachable format with links to further resources provided.
"I feel that an app would be useful for people right now who are processing little griefs - people who are grieving something about this past year. "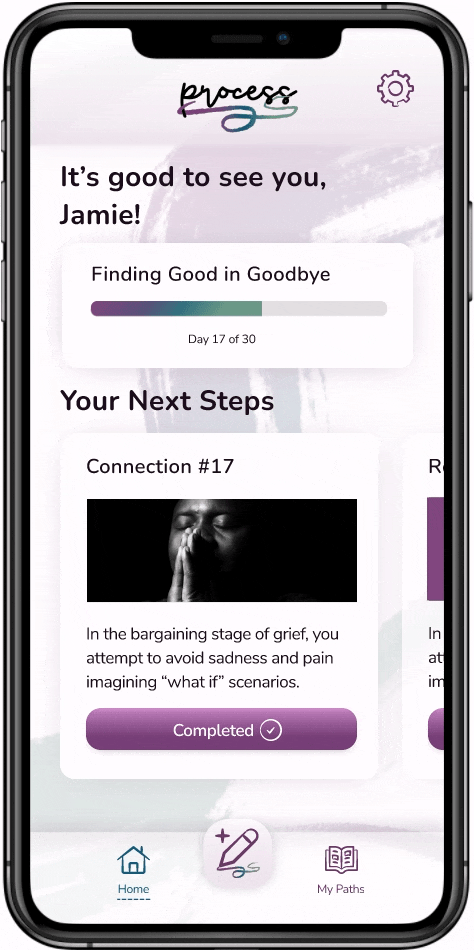 Reflect Through Your Process
Each Connection has an accompanying Reflection that prompts users to reflect on the topic of the day.
These reflections let users integrate their learnings into their experiences. Users can also add free-form entries to their journal at any time.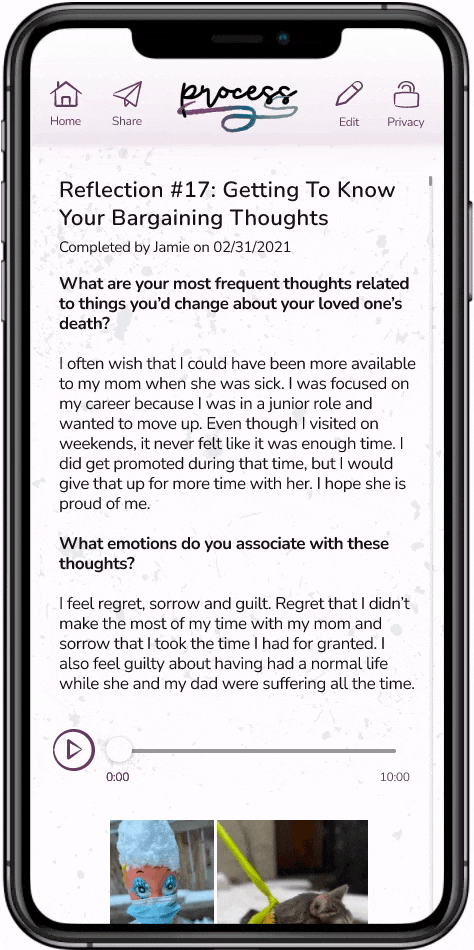 Sharing, if you want...
Process is not a social media app, but it's built with the social internet in mind. Those who wish to share their reflections are able to send private links to friends and family.
Privacy, if you don't...
Users are in total control of who can see their entries. Privacy and sharing settings can be changed for any Reflection at any time.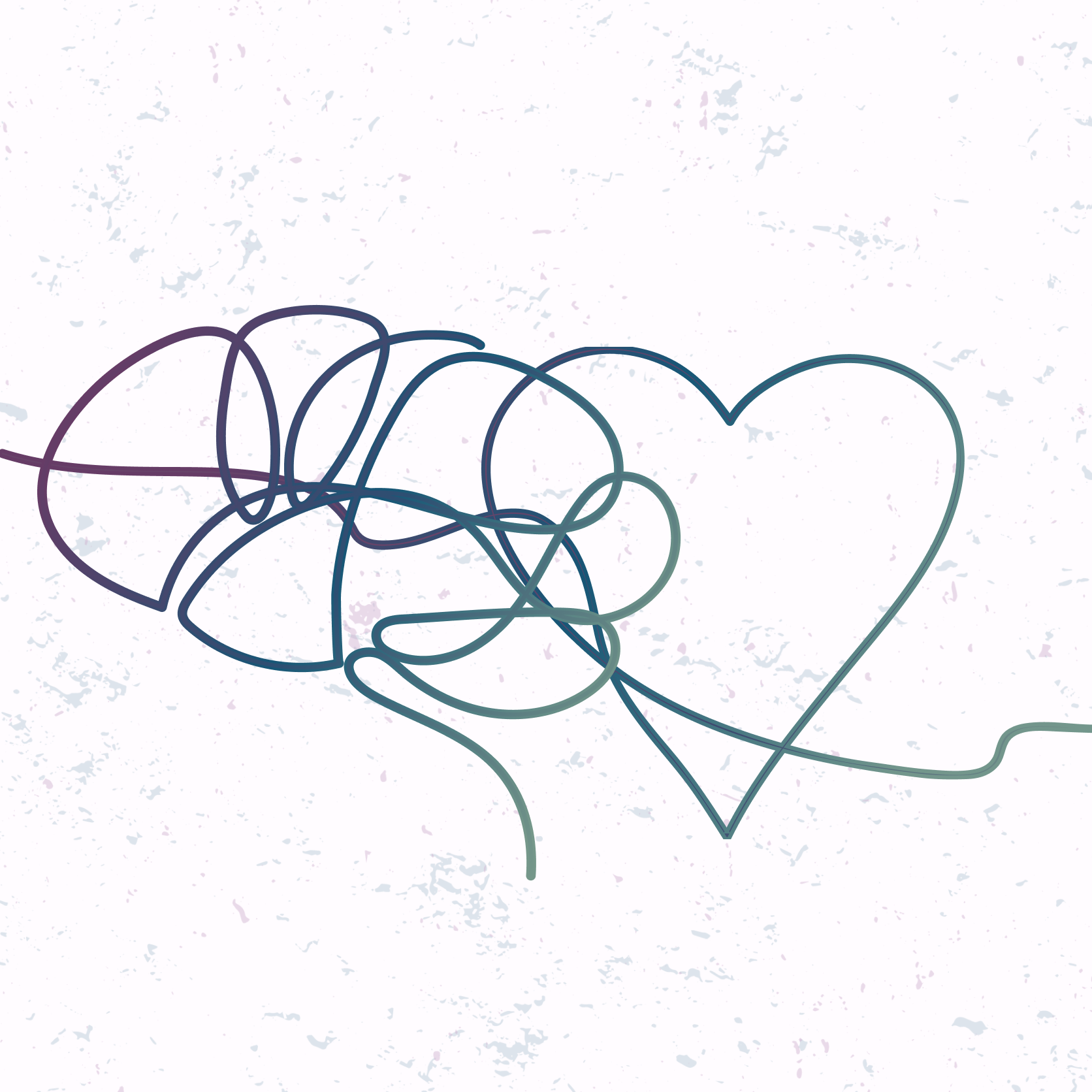 What I'll Take With Me
Along with building a thoughtful prototype that resonated with people experiencing grief, this project made me a more capable, conscientious and compassionate designer.
My personal experience might bring me to an empathetic place more easily, but building something great require compassionately engaging with people experiencing a problem, being aware of your blind spots and biases, and always iterating toward a solution that rises to the occasion.
On the surface, every design project won't feel as poignant, but every aspect of my work as a designer is rooted in human experience. Keeping that in mind only amplifies my strength as a designer.